There's nothing quite like the sound of a perfectly tuned guitar or a soft melody played on the piano, and if you enjoy playing a musical instrument, you probably do everything you can to make sure it is well-maintained and properly stored when not in use. If you've ever been faced with the long-term storage of a beloved instrument, you might have worried about how to best store it. There are several factors to take into consideration when storing musical instruments, and in today's post, we'll take a look at why it is important to ensure proper heat and humidity levels when storing your instruments.
At Homestead Storage in Greeley, we offer several sizes of climate-controlled storage units to ensure that your instruments are securely stored in the best conditions possible. Read on to learn more about the proper storage of instruments, and then call our office at 970-400-7144 or reserve your unit online today.
Brass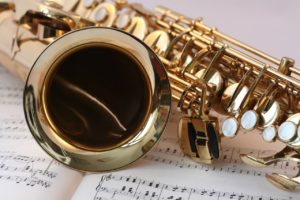 Instruments like trumpets, saxophones, and trombones are very sensitive to temperature and humidity fluctuations. Even if you clean and oil these items properly before storing them, their components can be easily damaged by cold, heat, and moisture. Additionally, storing your brass instruments in consistently hot and humid conditions can accelerate corrosion and potentially promote bacterial growth in the mouthpieces and tubes.
Percussion
Because they are bulky, large instruments like pianos and drums are often difficult to store in your home. If you are having trouble finding a good location for these instruments in your house, a temperature-controlled storage unit is an excellent solution. By placing your piano and drums in a storage unit that allows you to monitor and adjust the conditions as needed, you'll protect the keys, strings, wood, and drum heads from troublesome temperature and humidity fluctuations.
Woodwinds
Much like fine wood furniture, delicate woodwind instruments require special considerations for long-term storage. When you are considering storing your flute, oboe, or clarinet, it is essential to ensure the humidity levels are closely monitored. If humidity levels dip below 40 percent, the instrument could dry out and crack. Pads can expand and swell if humidity levels exceed 55 percent, and the likelihood of mold growth increases exponentially.

Stringed Instruments
Musical instruments that have string components, like guitars, are also very susceptible to damage when temperature and humidity levels are not controlled. When stored for a long period of time, strings can break if exposed to extreme temperature fluctuations and the adhesives holding the piece together can fail. Ideally, guitars and other stringed instruments should be stored in a humidity-controlled environment where temperatures stay between 72℉ and 77℉.
Evans Climate-Controlled Storage
Are you an Evans resident who is looking for secure and affordable climate-controlled storage for your musical instruments? Homestead Storage offers several sizes of indoor units that allow you to control the temperature and humidity levels, ensuring safe self-storage for your prized instruments. With month-to-month rates starting as low as $73, you're sure to find a storage solution that suits your needs and your budget. Call our friendly team at 970-400-7144 today to get started!