When it comes time to place your personal belongings into a self-storage unit, you'll be faced with trying to locate a facility that will best fit your needs and budget. Of the many things on your checklist for an ideal storage facility, security is likely to be one of the most important. At Homestead Self-Storage in Greeley, we offer a variety of unit types and sizes, all of which are secure! Be sure to check out our site to see for yourself, and in the meantime, we've listed a few things you'll want to be certain to look for in your search for a secure storage facility.
Security Gate
Most professional self-storage locations are protected by some sort of gate nowadays. The gate should be constructed of durable metal and be adequately high so as to secure the entrance to the units. It should also have electronic controls which records dates and times of each entry, and possibly a lock-out feature if the wrong code is entered too many times. At Homestead Storage, we have gated access and you'll be provided with a unique access code specific to your unit to ensure the highest security.
On-Site Owner
Some public storage facilities are owned and operated by an off-site attendant. For the most secure storage, it's optimal if the owner resides on-site so as to be available to address any kind of emergency or security issues. On-site owners also have the opportunity to perform routine monitoring by walking or driving around the storage units to ensure there are no security concerns. With Homestead Storage, you'll find that our resident managers walk the grounds frequently to monitor units.
Security Cameras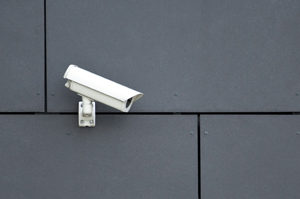 In your search for a secure storage facility, you'll also want to look for a company that has several security cameras throughout their location, including cameras at all points of entry and exit. Security cameras provide an additional layer of security since it isn't possible for the on-site owner to be in all areas of the facility at all times. Often, the cameras are part of a closed-circuit TV system which can be monitored on TVs from the front office. You'll be glad to know that Homestead Storage utilizes security cameras in addition to our other security precautions.
Lighting
This might seem like a no-brainer, but any properly secured storage facility will have good lighting for customers who come to fetch things out of storage after dark or during bad weather. Well-lit grounds can also be a deterrent to anyone wishing to enter or exit the facility unnoticed or with malicious intent. Adequate lighting is a very easy thing to check for when you're checking out various sites. If there is any question about how well-lit a facility is after dark, you can always drive but the site at night or ask the owners during your initial contact.
If you're in the Greeley area and looking for a convenient and secure self-storage facility, be sure to check out Homestead Storage! We are conveniently located behind The Home Depot off of 35th Avenue and Highway 34. We offer easy online payments and reservations to make your storage experience as easy as possible!
Contact us at 970-400-7144 today! We can't wait to work with you!