Whether you collect vintage cars or you have a high-end sports car that you want to protect from the elements, a storage rental provides the perfect solution. While a self-storage unit will protect your valuable vehicle from the elements, there are a few essential steps you can take to ensure your car remains in the same condition it was when you put it into storage. In today's post, we'll review a few tips for properly preparing a vehicle to be stored and where you can locate affordable self-storage.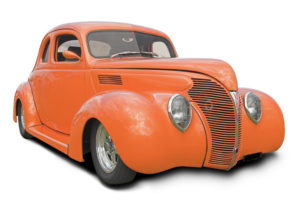 Do you need a place to store your car? Homestead Storage in Greeley is here for you! Whether you need a simple 10×20 unit or you prefer climate-controlled storage, we have it all. Check out our available units and reserve yours online!
Tips for Proper Car Storage
Preparing your vehicle for storage is easy with the following tips:
Clean the Vehicle
Before you place your vehicle in storage, be sure to thoroughly clean the inside and outside of the car. Give the car a good wash to remove any dirt and grime that has accumulated in the wheel wells and other nooks and crannies to avoid rust and corrosion from forming. While you're at it, give the car a good detailing and interior cleaning to ensure that there are no food particles or odors that might attract mice or other critters.
Plug the Tailpipe
Whether you need a storage rental for a few months or several years, it is important to protect the exhaust and engine from mice. When left open, the tailpipe on your car provides the perfect opportunity for troublesome vermin to set up camp within the interior components of your vehicle. To prevent chewed wires and other unfortunate damage, stuff the tailpipe with steel wool or tape a rubber ball over it to keep mice out.
Drain the Fuel
When preparing to store a vehicle, many people wonder whether or not they need to drain the fuel out of the gas tank. If allowed to sit for extended periods of time, gasoline begins to oxidize and can form deposits in the fuel tank. Additionally, fuel is considered a hazardous material that is not suitable to be left in a storage unit. Before you store your car, be sure to empty the fuel tank and store any excess fuel off-site.

Preserve the Wipers and Tires
Tires and windshield wipers might seem like completely different parts of a car, but they have one thing in common: rubber. Putting your vehicle up on jack stands while it is in storage will keep the tires from developing flat spots that can cause a troublesome vibration when you drive the car again. Likewise, removing the windshield wipers and storing them in the car will prevent them from sticking to the windshield and becoming damaged while in storage.
Evans Storage Rental for Vehicles
Once you have your vehicle in the storage rental, don't forget to protect your vehicle from dust and dirt with an appropriate car cover. Have questions about storing your car with Homestead Storage? We'd love to speak with you. Call us at 970-400-7144 today!