If you have a home office, you know how challenging it can be to maintain the space in a way that provides optimal conditions for creativity, efficiency, and productivity. Many people that work from home have discovered the benefits of off-site storage for business purposes, and if you're finding that your home office conditions could use some improvement, Homestead Storage in Greeley would love to help you. We offer secure, affordable storage with online payments for your convenience, and we have a wide variety of unit types and sizes to choose from. Reserve your unit online or call 970-400-7144 to get started!
How You Can Benefit from a Storage Unit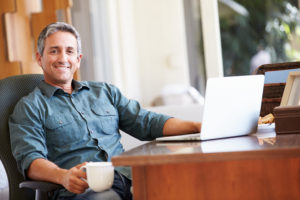 If you work from home, there are many advantages that an off-site unit can provide. From helping you better organize your belongings and providing additional storage space to helping you accommodate your changings career needs, self-storage can do it all!
Reduce Clutter
For many people, a disorganized office space can have a negative effect on productivity and mental acuity. When you go through the documents on your desk and the folders in your filing cabinet on a regular basis, this can help you combat an unnecessary sense of clutter. Additionally, clearing out business-related items that are not currently necessary for your daily operations can help you maximize the square footage of your home office. If you're unable to dispose of stored documents, storing them offsite in an affordable storage unit in an organized fashion is a great way to keep your office free of clutter.
Product Storage
Most people think that only those individuals who have computer-related desk jobs have the ability to work from home. While this is frequently the case, there are other professions, such as sole-proprietor cleaning companies and building contractors, which may require a home office. For the individuals who own these businesses, it may not always be wise or feasible to store items like cleaning products and tools in their home. Renting a storage unit can be a great solution for storing business-related products and equipment in a secure manner, and climate-controlled storage will ensure these items are not damaged by temperature fluctuations.

Seasonal Needs
There are many industries that have varying job responsibilities, and individuals such as privately owned landscaping companies who have a home office may be required to do different types of work for different seasons. Summer landscaping jobs may include mowing, trimming, planting, and otherwise maintaining a beautiful lawn for clients, while winter jobs may entail snow and ice removal. A home office is necessary for these companies, and an affordable storage unit may also be needed to store landscaping equipment for the seasons in which they aren't needed.
Affordable Storage in Greeley
If you're searching for convenient, affordable storage in the Greeley area, look no further than Homestead Storage. With both traditional and indoor storage units, month-to-month payments, and 24-hour accessibility, we're confident we can accommodate your business storage needs. Call 970-400-7144 today to get started!