Spring is upon us here in Northern Colorado, and with the changing of the season comes longer days and warmer temperatures. Whether you are a college student who needs to store a few things over the summer, or you are in between addresses, the change in climate is an important factor to take into consideration when you need to place personal items in a self-storage unit. If you are unsure whether or not you could benefit from indoor climate-controlled storage, the helpful team at Homestead Storage in Greeley would be happy to talk to you. Give us a call at 970-400-7144 today! In the meantime, check out the most common temperature-sensitive items below.
Eight Temperature-Sensitive Items
Furniture
Leather furniture or antique wood pieces should be stored with care, as excessive temperature swings and/or high humidity levels can cause extensive damage to these items. Indoor storage allows you to control both the temperature and humidity level year round to ensure optimal conditions.
Important Documents
Paper is incredibly sensitive to heat and moisture, and storing these items in a controlled environment is the best way to protect them from discoloration, staining, and water damage. If these items become damaged, it is possible they will no longer be legible, spelling big trouble if they are contracts, deeds, or other important legal documents.
Musical Instruments
Many musical instruments are made out of wood or brass, and some may even feature delicate strings. If you have guitars, drums, a trumpet, or a piano that needs to be stored, indoor climate-controlled storage is your best bet. The consistent conditions will protect instruments from warping, cracking, and/or rusting.
Electronics
If you have a large amount of expensive audio/visual equipment that you need to pack away, then you want a reliable storage solution to protect your investment in these items. Choosing a temperature-controlled unit will prevent your electronics from damage related to moisture exposure.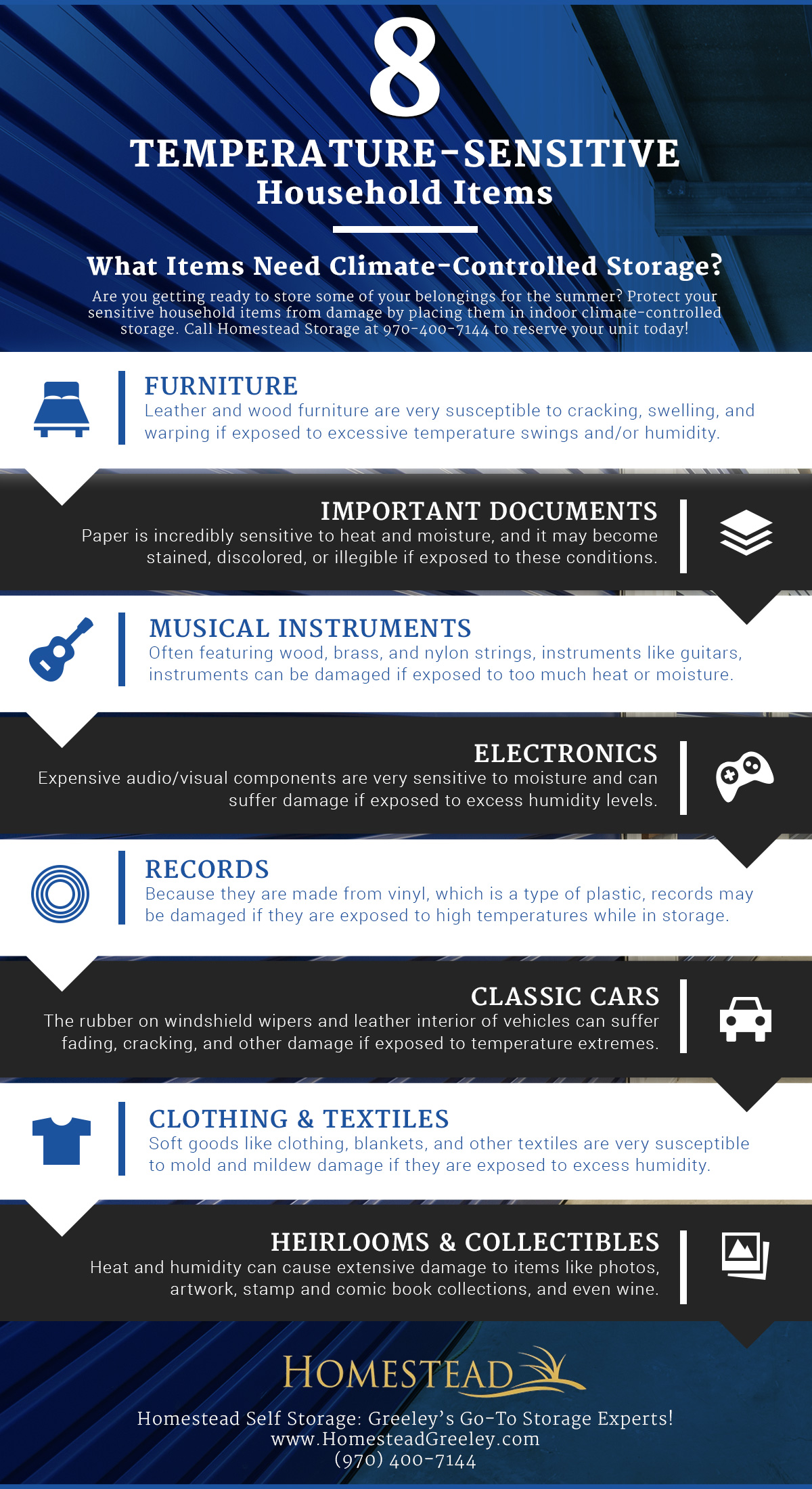 Records
There's nothing quite like listening to one of your favorite records as you unpack your things. However, if you failed to store them in a climate-controlled storage unit, you may be sorely disappointed with their post-storage condition, as records can become warped and damaged when exposed to high temperatures.
Classic Cars
If you have an old vehicle that you need to store either for a short period of time or indefinitely, then it is wise to consider temperature-controlled storage. Cars often have sensitive components, like rubber on windshield wipers and leather seats, that can be damaged when exposed to temperature extremes and humidity.
Clothing & Textiles
It may not seem that important to store your soft goods in a consistent environment, but clothing and other textiles are very susceptible to mold and mildew damage if they are exposed to excess humidity. Indoor climate-controlled storage is a sure-fire way to protect your soft goods from this common issue.
Heirlooms & Collectibles
When you have family heirlooms or collectibles to store, you want to ensure they are safe from harm. Heat and humidity can cause extensive damage to items like photos, artwork, stamp and comic book collections, and even wine. Storing these items in a temperature-controlled unit will ensure they are protected from the elements.
Greeley Indoor Climate-Controlled Storage
If you are searching for affordable temperature-controlled storage in the Greeley or Evans area, look no further than Homestead Storage. We offer indoor climate-controlled storage as low as $78 per month and we gladly offer a 10-percent military discount for service members. Our online payments and month-to-month units make storing your belongings easier than ever! Reserve your unit online today!