Storing your extra personal belongings or business property away from your home or office has many benefits. You get the benefit of extra space and the confidence in knowing your items are protected from damage and theft, not to mention that most storage facilities are open 24/7, allowing you to retrieve your items whenever you need to. If you have never had the need for off-site storage as a homeowner or business owner, then you might not be familiar with the different types of storage units you can rent. In today's post, we'll review a few different varieties of lockers, who may benefit the most from them, and how you can reserve a unit of your own. Check them out below, then contact Homestead Storage to learn more about our secure storage facility in Greeley!
Types of Storage Units
Standard Storage Units
When you think of a traditional storage unit, you likely picture standard, outdoor storage units that virtually all facilities offer. Similar to small garages, these lockers range from 10 by 10 feet to 10 by 20 feet, and they usually feature an overhead door that rolls open for easy access to your belongings. Standard storage units are ideal for short-term storage, and they are great for storing belongings that are not sensitive to heat or humidity.
Climate-Controlled, Indoor Storage Units
Climate-controlled, indoor storage units come in a wide variety of sizes, from small 4-by-10 feet lockers to larger 10-by-20 feet units, and they are ideal for customers who have temperature-sensitive items to store for long periods of time. For example, if you have wood or leather furniture, important documents, or electronics to store, this type of unit enables you to control both the temperature and the humidity levels in which your items are stored.
Extra Large Storage Units
This type of unit typically boasts a large amount of space in which to store your belongings, and some are even as large as 300 square feet. Some storage facilities, like Homestead, have extra large outdoor lockers and extra large indoor, climate-controlled units. This type of unit is ideal for short- or long-term storage, and benefits homeowners and businesses who have an entire home or office worth of belongings or a few larger items to store.
Extra Small Storage Units
While some people need an extra large unit, others may only require a small storage locker for their belongings. Since you will be paying for this off-site location, you don't want to pay for more space than you need. As a solution, many facilities offer lockers that are as small as 4 by 10 feet in both standard or climate-controlled lockers. These units are great for short-term or long-term rental, and they are ideal for people who don't have very many belongings to store.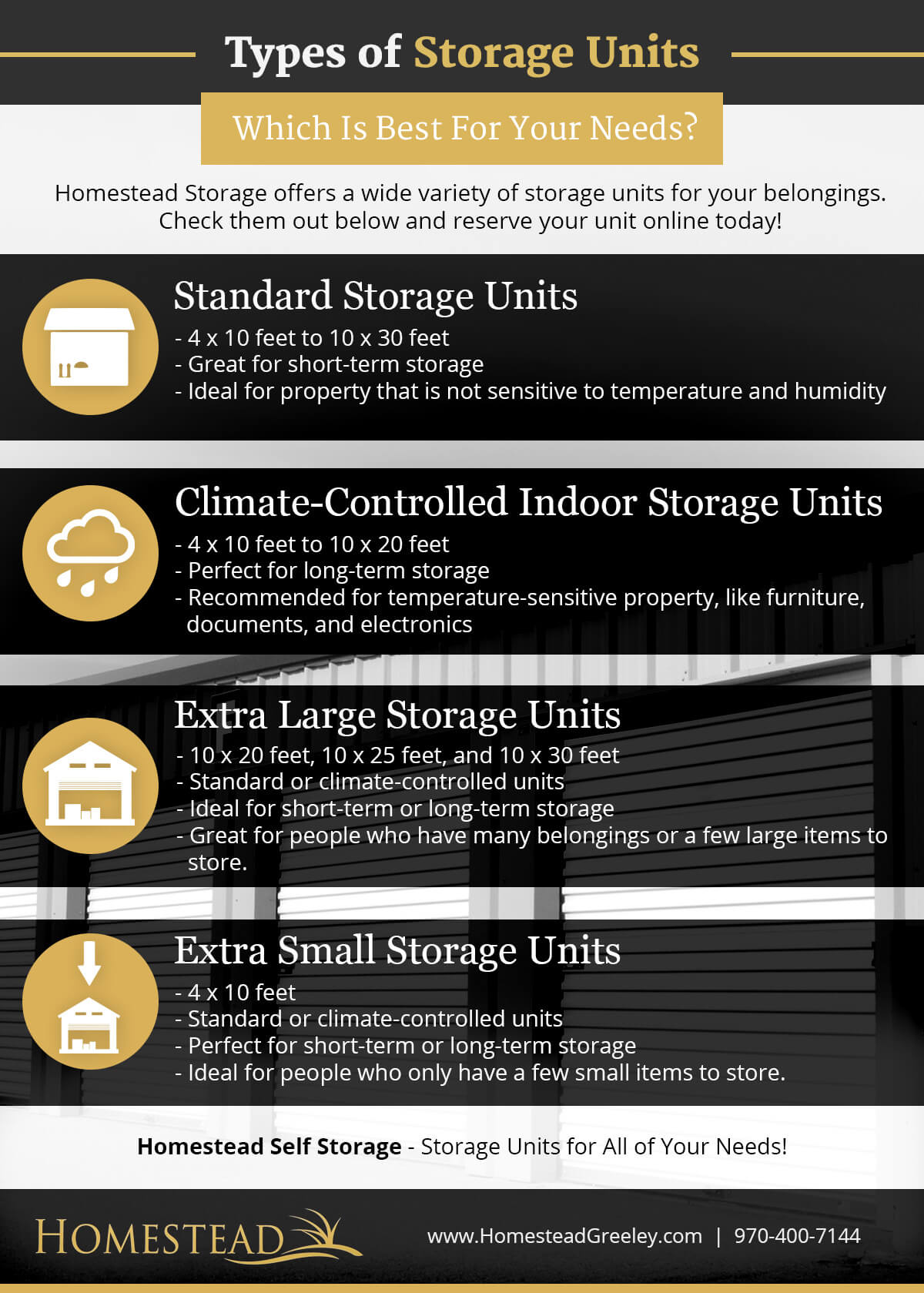 A Variety of Storage Units in Greeley
Are you searching for self-storage solutions in Greeley? If so, then look no further than Homestead Storage! We offer a wide variety of units, from traditional outdoor lockers and climate-controlled units to extra small and extra large storage units. We also offer quick and easy online payments and 24-hour access in order to ensure the utmost convenience for our customers. Ready to get started? Reserve your storage unit online with us today!