While many people are familiar with the idea of renting a self-storage unit to keep their belongings safe, it may also be something you've never really considered for yourself. However, as you go through life, there may be some changes that leave you wondering if a self-storage unit is the right option for you. In today's post, we will discuss the top five reasons people invest in self-storage units to give you a better idea if now is the right time to get a storage unit of your own.
If you live in Greeley or the surrounding areas, and you're considering investing in a self-storage unit, look no further than Homestead Storage. We offer numerous self-storage units in varying sizes, making it easy for you to find the right unit for your needs. Looking to store some temperature-sensitive items? No problem! We also offer climate-controlled units, giving you peace of mind that even your most delicate items are safe. Explore our website to learn more, and if you decide a self-storage unit is right for you, reach out to Homestead Storage in Greeley today to get started! In the meantime, continue reading below to learn about the top five reasons we have people rent our self-storage units.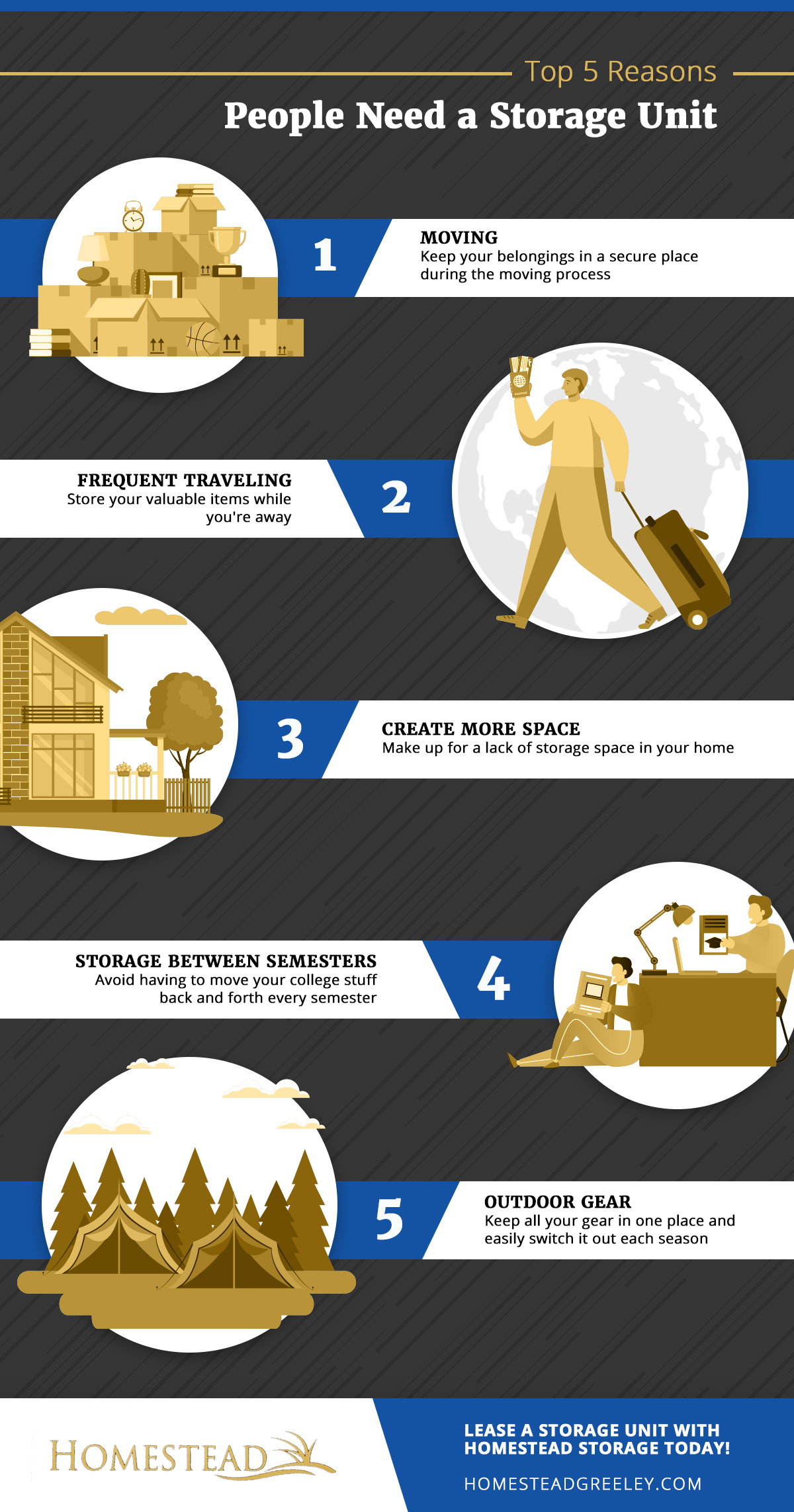 Moving
Whether you're downsizing your home or simply moving to a new part of town, having a self-storage unit where you can keep all your belongings during the transition can make your life much easier. Perhaps you've already sold your home, but it will be a couple weeks before you can move into your new one. Placing your belongings in storage can ensure that they are safe for as long as you need. Alternatively, you may be still trying to sell your home, and your real estate agent has suggested you clear out some of your packed boxes to make your home look more appealing to potential buyers. Leasing a storage unit can give you a place to store all those belongings while you try to sell your home and look for a new one.
Frequent Traveling
Many people love to travel, whether it's short trips every now and then or seasonal vacations to warmer climates. If you are someone who travels frequently, whether it's for work or for pleasure, you may not spend a lot of time at home, or you may even have an alternative living situation that better fits your nomadic lifestyle. Whatever the case may be, taking your valuable items with you every time you go somewhere new can be a hassle, especially if you don't have a permanent place of residence. That's where a storage unit can come in handy! By leasing a self-storage unit, you will have a secure place to keep all the belongings you don't need, and you will have full confidence that they will be waiting for you upon your return.
Create More Space
It's true that homes can never have too much space, and if you currently live in a house or apartment that just isn't big enough for everything you own, you may be looking for a way to free up more space without having to throw out or donate your belongings. Perhaps you're between homes or living in the only place you can afford at the moment, and you know that someday you will want all your belongings in your new abode. In this type of situation, leasing a self-storage unit can provide you with the extra space you need to declutter your current home and give you a little more room to breathe.
Storage Between Semesters
Self-storage units are also an extremely popular option for college students. Many students travel out of state for school, and during the summer months, they return home. Taking their belongings back and forth with them each semester or year can be exhausting, which is why many make the decision to invest in a self-storage unit. A storage unit gives them a place to store their belongings when they have to move it out of the dorms or their apartments between semesters. As an added bonus, many storage facilities, including Homestead Storage in Greeley, offer month-to-month leases, meaning the students will only have to pay for a few months, as opposed to being stuck with a long-term contract.
Outdoor Gear
Those who enjoy spending time outside typically have a lot of equipment and gear that they need for their desired activities, such as camping gear, skiing equipment, and more. For people who enjoy outdoor activities in all types of weather, storing all of their gear can be a hassle, especially if space is limited at home. Leasing a self-storage unit gives them the space they need to store their gear safely, as well as the option to switch out their gear as the weather changes.
Interested In a Storage Unit?
These are just a few of the reasons that people decide to rent self-storage units, and if you are considering renting a unit for yourself, Homestead Storage in Greeley is here to help! We offer self-storage units in a variety of sizes, as well as climate-controlled units for your more sensitive items. Explore our website to learn more about our units and our safety measures, and when you're ready, give us a call to get started!