From grills and coolers to sunshades and chairs, there are a lot of supplies necessary to make your tailgating experience as fun and comfortable as possible. Depending on how much tailgating equipment you have, you may not always have adequate storage space at your home or apartment to keep these items safe between games. Today, we'll review a few essential tailgating supplies and how you can best store them between festivities.
If you're looking for local storage units in the Evans or Greeley area, Homestead Storage is here to help! We offer a wide variety of secure, outdoor and indoor units, all with convenient monthly payments and 24-hour access. Call 970-400-7144 or reserve your unit online today!
Grills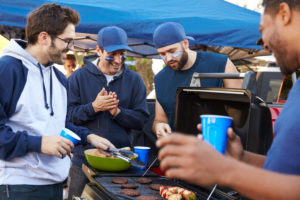 Aside from the excitement of the impending game, one of the best things about the tailgating experience is enjoying freshly grilled hamburgers, hot dogs, and bratwursts outside of the stadium with friends and family. Whether you prefer gas or charcoal varieties, barbecue grills can take up quite a bit of space. If you don't have room to store your portable grill, or if you prefer to keep all of your tailgating gear in one location, storing them in a secure local storage unit may be a good idea.
Coolers
When you're enjoying all of that delicious barbecued food before the game, you're probably going to want a cold beverage to wash it down with. Depending on how large your tailgating entourage is, you may need several coolers to accommodate everyone's drinks. If you own a large rolling cooler or an expensive Yeti®, you may not have enough space in your garage to store these items, and storing them in a self-storage unit between game days can help you maximize your garage space.
Portable Sunshades and Shelters
If you're an avid tailgater, you likely have your fair share of tales about celebrating your favorite team in all types of weather conditions. Fall and winter weather conditions in Colorado can be unpredictable, to say the least, and whether you're preparing to enjoy a University of Northern Colorado Bears game or a Denver Broncos game, portable sunshades and shelters can help ensure you stay comfortable during your tailgating time. Storing these items with your grill and cooler will make pre-game planning a snap.

Seating
Many dedicated tailgaters like to begin their festivities first thing in the morning, even if the game is not until late afternoon or evening. All of that time standing around your vehicle as you wait for the game can prove to be tiresome at times, and folding chairs are likely an important part of your tailgating essentials. Depending on how many chairs you have and whether or not you use them in between games, storing them offsite with your other supplies may make the most sense.
Local Storage Units in Evans
Football season is still in full swing in Northern Colorado, and if you've had difficulty storing all of your tailgating essentials, call Homestead Storage! We offer affordable, local storage units conveniently located off of Highway 34 and 35th Avenue right behind The Home Depot®. Call our friendly staff at 970-400-7144 today to get started!