Spring has arrived, and that means it's time to get serious about spring cleaning! As the weather starts to warm up, it's nice to open all the windows, air out your home, and make your entire space sparkling clean. In today's post, we will provide you with a few tips to keep in mind as you begin your spring cleaning endeavor.
One important part of spring cleaning is putting away all of your winter gear, from hats and heavy coats to snowblowers, shovels, and more! If you don't have enough space at home for all of your winter items, Homestead Storage in Greeley can help! We offer a variety of self-storage units to fit all of your needs. Learn more by exploring our website, and give us a call to get started!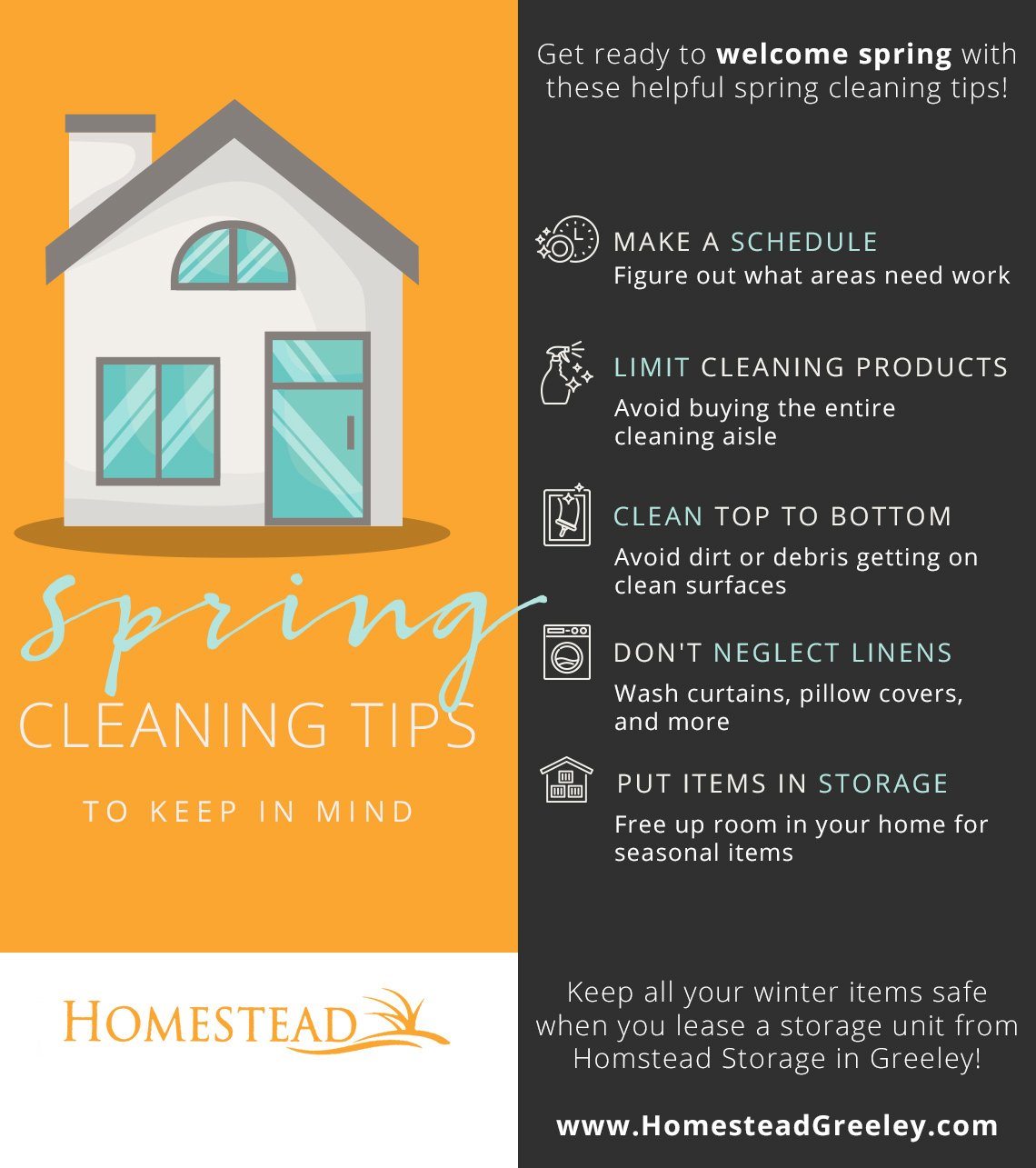 Make a Schedule
Some people like buckling down and cleaning their entire home in one day. While this is definitely possible, it may not be the most logical way to get everything clean. It's important to dedicate plenty of time to each room in your home, and if you try to do it all in one day, you might find that you're rushing through some of your chores. Instead, considering making a schedule! Plan out which rooms you want to tackle and when you want to clean them. If you want to get really technical, you can also list every part of the room that needs a little TLC.
Limit Cleaning Products
When you go down the cleaning supply aisle at any store, you will notice that the shelves are full of various products. It can easily become overwhelming, especially if you're not quite sure what products work best. While your first instinct might be to get products for each surface that you plan to clean, it's best to limit the number of cleaning products you buy. Instead, find a few high-quality cleaning solutions that work on multiple surfaces. Not only will this help limit the number of chemicals you use, but it can also help you save money.
Clean Top to Bottom
As you get started with your list, you want to keep in mind that you should always clean rooms from top to bottom. You may want to start by cleaning the floors, especially if they need it. However, it's more beneficial to work from the top of the room all the way down and do the floors last. Imagine that you went ahead and cleaned your floor and then decided to clean the top of some cabinets next. If you cleaned the cabinets and dust or dirt fell on the floor, you would have to do the floors all over again, but if you go from top to bottom, it won't be an issue!

Don't Neglect Linens
Spring cleaning is most often associated with sweeping floors, wiping down baseboards, and more. However, the one thing people often forget about is the linens! Make it a point to wash all of your blankets, sheets, pillow covers, and curtains. This will ensure that everything in your home is clean, and if you really want to take advantage of the warm spring weather, you can let your linens dry outside, giving them that amazing, fresh smell.
Put Items in Storage
Tidying up your home gives you the perfect opportunity to eliminate clutter. That being said, if you don't have enough storage space in your home for all your winter items, it can make the clutter seem even worse. Luckily, Homestead Storage in Greeley has a solution! We offer self-storage units in varying sizes, allowing you to find the perfect unit for your needs. If you have questions about our month-to-month lease or you are ready to rent one of our self-storage units, contact Homestead Storage today!