Not everyone likes traveling the road less taken, but it has become more and more popular for people to buy RVs or convert vans into tiny houses that they can then use to travel across the country. There's something freeing about being able to pack up a few belongings and traveling across the country without a real plan of where you're going, but you may be asking yourself how you can make that happen, and even more importantly, what do you do with the rest of your stuff while you're gone?
If you live in Greeley or the surrounding areas, and you're feeling the itch to hit the road in an RV for a mobile tiny home, Homestead Storage has the perfect solution. We offer a variety of self-storage units that are perfect for keeping all of your belongings safe while you're on the road. We even offer month-to-month contracts, so you're not stuck in a long-term contract if traveling the country doesn't work out. Explore our website to learn more about our storage units, and continue reading below for a few more tips for road tripping across the country.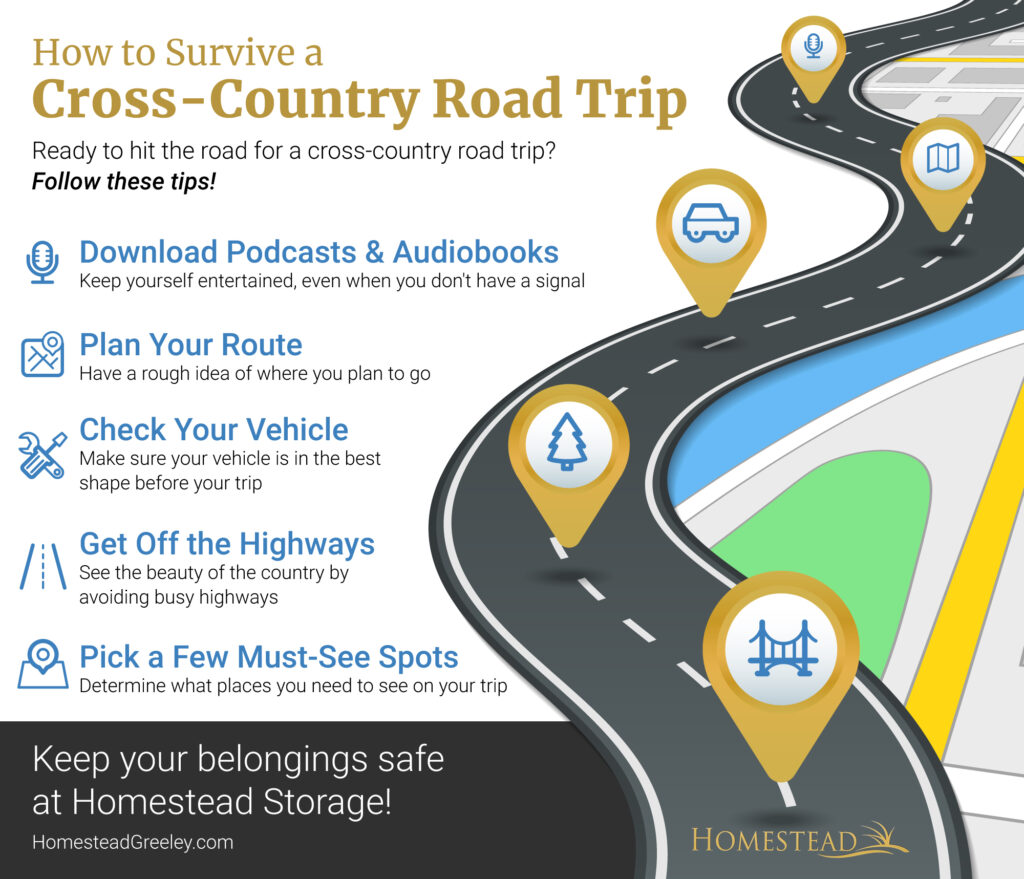 Plan Your Route
The point of taking a cross-country road trip is to have the freedom to choose wherever you want to go, but that doesn't mean that you can't take the time to plan a route. While there is something spontaneous about hitting the road without a plan, it can lead to some problems if you're not careful. Instead, consider making a rough route of where you want to go on your trip. You can decide what states you want to visit, or even a few towns, and then decide how long you plan to stay in each area before you head to the next. Creating a rough route will give you enough of a plan so that you can stay safe, but it will also provide you with the freedom you crave.
Download Podcasts and Audiobooks
Everyone knows that driving in silence is not the proper way to do a road trip — you need tunes, audiobooks, or some other form of entertainment. However, a phone signal is not always the most reliable while you're on the road, so it's a good idea to make sure you download podcasts, playlists, and audiobooks before you go. The last thing you want is to be caught up in a podcast only to have it cut out at a crucial moment because you lost your signal, and you don't want your driver falling asleep because they can't listen to music. Instead, it's better to do yourself a favor and download as much entertainment as you can.
Check Your Vehicle
One of the most vital things you can do before you head out on your road trip is to have your vehicle inspected. Nothing can ruin a road trip and cause stress like having a problem with your vehicle halfway through your trip. For this reason, we recommend taking the time to have your vehicle fully inspected in a timely manner before your trip. If anything comes up, such as tires needing to be replaced or your oil needing to be changed, it's a good idea to take care of it before your trip before it becomes a bigger problem.
Get Off the Highways
The highways are great for helping you get to a destination quickly, but they can take you right past some of the most beautiful scenery in the country. Instead of taking the highway the entire length of your road trip, consider getting off the highway and taking some country roads. Not only will this get you away from other cars on the road, but it will also allow you to experience more of the beauty the country has to offer. That being said, it's also a good idea to have a map handy and a plan to get off the country roads in case you run into a problem.
Pick a Few Must-See Spots
In addition to planning a rough route for your trip, it's also a good idea to pick a few must-see spots that you can stop at along the way. For example, have you always wanted to visit Yellowstone National Park? Is New Orleans calling your name? Instead of driving past all the amazing spots that you've always wanted to visit, consider making a list of all the must-see spots on your list and making a route based on those places. It could take you a while to get to each one, but that's the fun of a cross-country road trip.
Pack Up and Go!
Now that we've appealed to your inner travel bug, it's time to start planning your cross-country road trip. Instead of selling all your stuff and living a truly nomadic lifestyle, consider packing up the belongings you won't need and storing them at Homestead Storage in Greeley. We offer a variety of self-storage units to meet your needs, and our units are extremely secure, meaning all your belongings will be safe and sound while you're gone. What are you waiting for? Explore our website to learn more and give us a call today to reserve your storage unit.