Unfortunately, when you rent a self-storage unit, you can't just toss everything into your unit and forget about it until you need it. While it's true that you don't need to worry about your items once they are properly stored in your self-storage unit, there is a certain way you need to pack your unit to make sure everything fits just the way it should.
At Homestead Storage in Greeley, we offer a variety of self-storage units to meet your needs. Whether you're in need of a smaller unit as a temporary holding space or you need a bigger unit to keep all of your outdoor gear, we have exactly what you need. In fact, we also offer climate-controlled units for your more temperature-sensitive items. Explore the options we have available and contact Homestead Storage in Greeley! In the meantime, continue reading below for a few tips on how to properly pack your self-storage unit.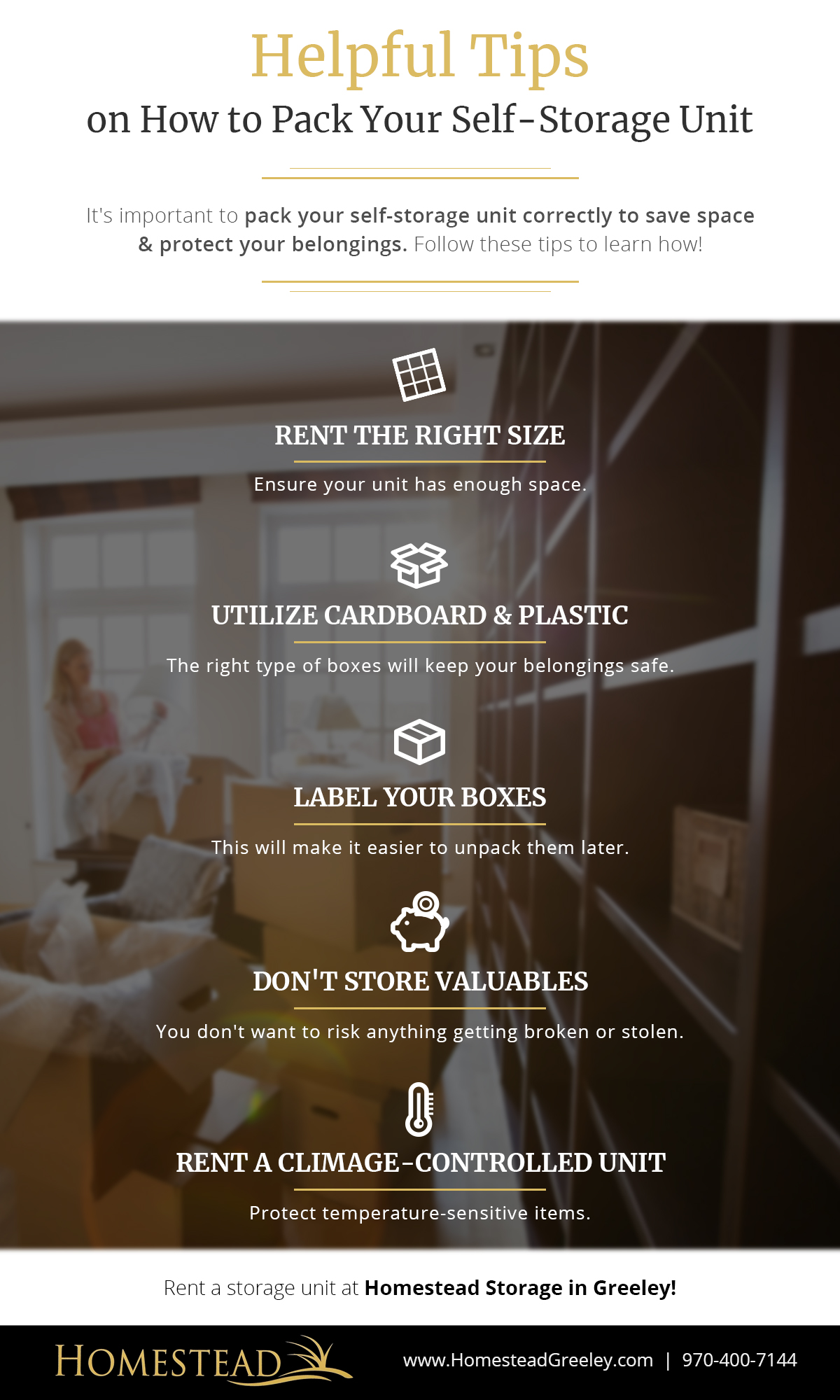 Rent the Right Size
First and foremost, you need to make sure that you rent the right size. If you know you're going to store a lot of furniture or other large items, then it's probably safe to assume you will need a larger storage unit. However, if you're planning to only store a few seasonal items such as decorations, winter sweaters, or outdoor gear, then you may be able to get away with a smaller unit. The great thing about leasing a self-storage unit is that you can always upsize or downsize based on your needs!
Utilize Cardboard and Plastic Containers
Once you've rented a self-storage unit that is the right size for your needs, the next thing you need to do is start thinking about filling it. You may have a wide variety of items that you wish to put in your storage unit, but unlike throwing your belongings into a closet or spare bedroom, you need to make sure you are storing your items in proper containers.
While plastic grocery bags may be great for keeping a miscellaneous group of items all together, it isn't the ideal solution for storing items in a self-storage unit. Instead, we recommend taking advantage of cardboard boxes and plastic containers. Both materials are great for stacking, making it easy to efficiently use the space inside your unit. However, it's important that you keep in mind how long some items will be in your unit. For example, cardboard boxes are great for temporary storage, whereas plastic bins are better for long-term storage.
Label Your Boxes
One of the best things you can do for yourself prior to filling your storage unit is to label your boxes. This is especially important for holiday decorations or other seasonal items that you will need to unpack every once in a while. The last thing you want is to spend hours tearing open unlabeled boxes in your storage unit just to find one item! As you pack up boxes or move bins to your storage unit, make sure you label them with what is inside to save yourself the headache of searching through all of your boxes when you need something in the future.

Don't Store Valuables
The most common reason people rent a self-storage unit is because they just don't have enough space in their home or apartment. A storage unit is a great way to free up some of the space in your home without having to throw things away. That being said, you should never keep valuable items in your storage unit. Just because you can put something in your storage unit doesn't mean you should. Valuable items such as fine jewelry, priceless paintings, or family heirlooms could get lost or damaged as you move them to the storage unit. In very rare cases, valuable items can also get stolen, so it's best to keep those items in a place where you can guarantee they are safe.
Rent a Climate-Controlled Unit
Most self-storage units are located outside, meaning they are susceptible to changes in temperature, especially in Colorado. Extreme shifts in temperature can cause damage to some items, which is why we recommend keeping those items safe in a climate-controlled storage unit. Belongings such as artwork, leather furniture, and instruments are best kept in climate-controlled units to ensure they stay in the best possible condition.
Rent a Self-Storage Unit Today!
Think a self-storage unit is right for you? At Homestead Storage in Greeley, we offer a variety of storage units to meet your needs, including climate-controlled units. Learn more about our units and our security on our website and give us a call to start the process of renting your own self-storage unit!