If you are preparing to place your belongings into a self-storage unit, you might come across a few household items that are either dangerous or fragile, making them a little more difficult to properly pack than other items. Things like mirrors, knives, glasses, and dishware require extra attention before you toss them in a box, and in today's post, we'll provide a few helpful tips for packing and storing these types of items.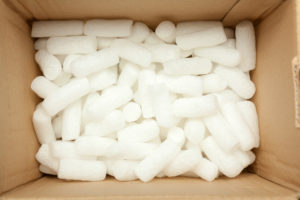 Are you looking for secure, affordable self-storage in Greeley or Evans? Check out Homestead Storage today! We offer many different sized units and we offer climate-controlled units to help you store your temperature-sensitive items easily and safely. Call 970-400-7144 today or reserve your unit online now!
Storage Tips for Breakables
Mirrors
Aside from potentially giving you seven years of bad luck, unpacking a broken mirror can be dangerous because of the razor-sharp edges that can cut you. If you have a mirror that you need to pack, store, and/or move to a new home, it is essential to pack it properly to prevent it from being damaged or broken. We have found that it is helpful to tape a large "X" over the surface of the glass. That way, if the mirror's surface does crack, the pieces should be held together. Covering the mirror with a packing material like bubble wrap or foam provides an additional layer of protection, as does placing cardboard along the edges and corners.
Knives
If you have ever had to pack up your kitchen, you know that some items can be more tricky to pack than others. Many homeowners keep their sharp kitchen knives in a knife block, and while these can be heavy and awkward to pack, the best thing you can do is keep the knives in the block as you are preparing to store them in a self-storage unit. This will protect the knives and allow them to retain their sharp edge. If you don't have a knife block and you have a number of loose knives to pack, bundle them together in a towel or rolled cardboard. Not only will this keep the knives together, it will prevent you from injuring yourself when the time comes to unpack them.

Dishes and Glassware
Items like plates, bowls, glasses, and mugs are some of the most difficult household items to pack properly. For lightweight dishes, placing a paper towel or a piece of bubble wrap in between dishes can keep them from getting scratched. Heavier pieces may need to be wrapped individually before they are placed in a sturdy box. Fragile glasses, stemware, and vases require extra care if you do not have the box the items originally came in. Carefully wrap each item in newspaper or bubble wrap, place them in a box with cardboard dividers, and consider filling in the gaps and spaces with packing peanuts or another packing material to prevent breakage.
Greeley Self-Storage Units
Packing your fragile belongings properly will ensure they are in as good of condition when you take them out of storage as they were when you stowed them away. If you need advice on how to best pack your belongings before placing them in your storage unit, our team is happy to speak with you. Contact us today to find the right storage solution for your needs!